Invited Speakers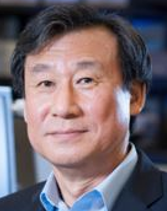 Kinam Park
Kinam Park
Showalter Distinguished Professor of Biomedical Engineering
Purdue University
U.S.A.
Group Website:
www.kinam.com
Professor Kinam Park received his Ph.D. degree in pharmaceutics from University of Wisconsin in 1983. After postdoctoral training in the Department of Chemical Engineering at the same university, he joined the faculty of College of Pharmacy, Purdue University in 1986. He has held a joint appointment in the Department of Biomedical Engineering since 1998. He became Showalter Distinguished Professor of Biomedical Engineering in 2006. His research focuses on oral delivery, drug-device combination products, and long-term microparticle formulations. He is the founder of Akina, Inc. specializing in polymers for drug delivery. He is currently the Editor-in-Chief of the Journal of Controlled Release.
Representative Publications
[1] Park, K.: Facing the truth about nanotechnology in drug delivery, ACS Nano, 7: 7442-7447, 2013.
[2] Park, K.: Drug Delivery of the Future: Chasing the Invisible Gorilla, J. Control. Release, 240: 2-8, 2016.
[3] Park, K.: Drug delivery research: The invention cycle, Mol. Pharm., 13 (7): 2143-2147, 2016.
[4] He, Y. and Park, K.: Effects of the microparticle shape on cellular uptake, Mol. Pharm., 13: 2164-2171, 2016.
[5] Park, K.: The drug delivery field at the inflection point: Time to fight its way out of the egg, J. Control. Release, 267: 2–14, 2017.
[6] Garner, J., Skidmore, S., Park, H., Park, K., Choi, S., and Wang, Y.: Beyond Q1/Q2: The impact of manufacturing conditions and test methods on drug release from PLGA-based microparticle depot formulation, J. Pharm. Sci., 107: 353-361, 2018.