Invited Speakers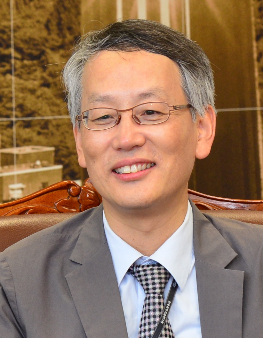 In-San Kim
In-San Kim, M.D., Ph.D.
Principal Research Scientist, Biomedical Research Institute, Korea Institute Science & Technology
Professor, KU-KIST School, Korea University
Office : Hwarangro 14gil-5, Seongbuk-gu, Seoul, Korea
E-mail : iskim14@kist.re.kr
Homepage : http://kist-ims.com/
In-San Kim is principal research scientist of Biomedical Research Institute at Korea Institute of Science and Technology since 2014 and also professor of KU-KIST Graduate School of Converging Science and Technology, Korea University since 2015. He received his M.D. and Ph.D. degrees from Kyungpook National University (KNU) Medical School. After a postdoctoral training in Dr. Benoit deCrombrugghe's laboratory of Department of Molecular Genetics of M. D. Anderson Cancer Center, he became a professor of the KNU medical school and promoted to a Full Professor. He found Korean Society of Matrix Biology and served as the first president. He also served as president of Korean Society of Molecular Imaging from 2013 to 2015 and Korean Society of Cell Biology from 2007 to 2009. Currently he is serving as vice-President of Korean Society of Biochemistry and Molecular Biology (KSBMB) since 2015 and President elect of KSBMB in 2021. He is a fellow of the Korean Academy of Science & Technology and a member of the National Academy of Medical Science of Korea. He is serving in a few government committees including National Bioethics Committee Member, Health Technology Policy Committee, Ministry of Health & Welfare, Advisory board, Korea National Institute of Health, and Bio-Health division, National Science & Technology Commission. He has been working on cell adhesion molecules and extracellular matrix proteins and their roles in tumor and other chronic diseases. He has expanded his interests in the development of drugs based on nanocage proteins and exosomes particularly harnessing immune system for cancer control. He has published more than 285 peer-reviewed papers and filed several patents. He is on the board of J Controlled Release.
Representative Publications
[1] Y Hong, YK Kim, GB Kim, GH Nam, SA Kim, Y Park, Y Yang, IS Kim Degradation of tumour stromal hyaluronan by small extracellular vesicle-PH20 stimulates CD103+ dendritic cells and in combination with PD-L1 blockade boosts anti-tumour immunity Journal of Extracellular Vesicles 8 (1), 1670893, 2019
[2] Y Yang, GH Nam, GB Kim, YK Kim, IS Kim, Intrinsic cancer vaccination. Advanced Drug Delivery Reviews, 2019
[3] Y Yang, Y Hong, E Cho, GB Kim, IS Kim, Extracellular vesicles as a platform for membrane-associated therapeutic protein delivery. Journal of extracellular vesicles 7 (1), 1440131, 2018
[4] G. Nam, E. Lee, Y. Kim, Y. Hong, Y. Choi, M. Ryu, J. Woo, Y. Cho, D. Ahn, Y. Yang, I. Kwon, S. Park, and I. Kim, Combined Rho-kinase inhibition and immunogenic cell death triggers and propagates immunity against cancer. Nat. Comm. 2018 Jun 4;9(1):2165.
[5] E. Lee, G. Nam, N. Lee, M. Kih, E. Koh, Y. Kim, Y. Hong, S. Kim, S. Park, C. Jeong, Y. Yang, and I. Kim, Nanocage-therapeutics prevailing phagocytosis and immunogenic cell death awakens immunity against cancer. Advanced Materials, 2018 Mar;30(10).
[6] Y Hong, GH Nam, E Koh, S Jeon, GB Kim, C Jeong, DH Kim, Y Yang, IS Kim, Exosome as a vehicle for delivery of membrane protein therapeutics, PH20, for enhanced tumor penetration and antitumor efficacy. Advanced Functional Materials 28 (5), 1703074, 2018
[7] Y. Yang, Y. Hong, G. Nam, J. Chung, E. Koh, and I. Kim, Virus-mimetic fusogenic exosomes for direct delivery of integral membrane proteins to target cell membranes. Advanced Materials, 2017 Apr;29(13).
[8] S. Park, Y. Yun, J. Lim, M. Kim, S. Kim, J. Kim, & I. Kim, The phosphatidylserine (PS) receptor stabilin-2 modulates the efficiency of myoblast fusion during myogenic differentiation and muscle regeneration. Nat Comm. 2016 Mar 14;7:10871.
[9] Taslim A. Al-Hilal, S. Chung, J. Choi, F. Alam, J. Park, S. Kim, F. Ahsan, S. Kim, I. Kim*, Y. Byun*. Prion-like protein "Doppel" is a selective therapeutic target for tumoral angiogenesis. J. Clin. Invest. 2016 Apr 1;126(4):1251-66. *co-corresponding.