Invited Speakers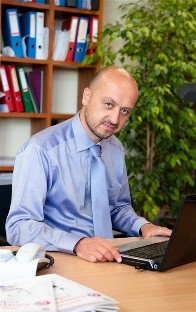 Stefaan De Smedt
Stefaan De Smedt
Professor, Ghent University, Faculty of Pharmaceutical Sciences, Lab. of General Biochemistry and Physical Pharmacy, Belgium
Website:

https://www.ugent.be/fw/pharmaceutics/biochemphypharm/en
Stefaan C. De Smedt (1967) studied pharmacy and graduated from Ghent University (Belgium). In 1995 he joined the pharmaceutical development group of Janssen Research Foundation and became Professor in Physical Pharmacy and Biopharmacy at Ghent University (1999) where he initiated his research on advanced delivery of biologics/nanomedicines and founded the Ghent Research Group on Nanomedicines. He served as dean of the Faculty of Pharmaceutical Sciences at Ghent University from 2010 till 2014. Since 2014 he is a member of the Board of Directors of Ghent University. He has been a Guest Professor at the Catholic University of Leuven (Belgium), the University of Antwerp (Belgium) and the Shanghai Jiao Tong University (China). He is a Distinguished Visiting Scientist of the Chinese Academy of Sciences at the University of Science and Technology of China (Hefei; 2017), and Specially Appointed Professor of Nanjing Foresty University (2016-2019). Since 2004 he serves as the European Associate Editor of the Journal of Controlled Release (JCR); in 2015 he became Editor of JCR for the regions Europe- the Middle East & Africa.
Research of Prof. de Smedt is at the interface between drug delivery, biophysics, material sciences and physical chemistry. He is the author or co-author of about 310 manuscripts (h-factor: 67; 17000 citations) including contributions to Nature Materials, Nature Communications, Nature biotechnology, Nature Drug Discovery Reviews, Nano Letters, … In 2018 he became awarded Highly Cited Researcher (interdisciplinary sciences) by Web of Science. He has been the scientific (co-)promoter and mentor of 48 defended doctoral theses. Eight of his doctoral/post-doctoral fellows are assistant/associate/full professors at various faculties; three of them received most prestigious Starting / Consolidator Grants from the European Research Council (ERC).
Dr. De Smedt filed 20 patents on carriers (and adjuvants) for drug delivery, and materials (and methods) for diagnostics. He is a scientific founder of Memobead Technologies, a spin-off from Ghent University, whose technology was further developed by Biocartis in Lausanne (Swiss) and Mechelen (Belgium). Currently MyCartis (Ghent) commercializes the technology. Dr. De Smedt is a member of the Drug Delivery Advisory Panel of Santen (Japan) specialized in ophthalmological medicines.
Dr. De Smedt is as member of the Belgian Royal Academy of Medicine (elected 2015), the European Academy of Sciences (section medicine & life sciences; elected 2018) and the Académie Nationale de Pharmacie de France (elected 2019).