Invited Speakers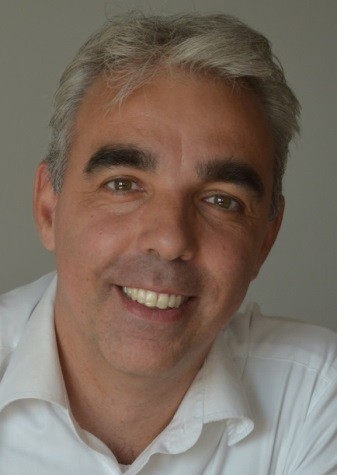 Raymond Schiffelers
Raymond Schiffelers
Professor of nanomedicine
University Medical Center Utrecht
Utrecht, The Netherlands
Group website: Nanomedicinelab.eu
Raymond Schiffelers studied Bio-Pharmaceutical Sciences at Leiden University (1990-1995). After an industrial traineeship at SmithKline Beecham Pharmaceuticals (UK) he did his PhD in medical microbiology at Erasmus University Rotterdam on liposomal targeting of antimicrobial agents (1996-2001). Subsequently he became post-doc at Utrecht University working on liposomes targeting tumor vasculature. In 2002-2003, at Intradigm Co (USA) he expanded his tumor vasculature-targeting work with polymers for delivery of siRNA. After his return to Utrecht University he became assistant and then associate professor. He received an ERC Consolidator Grant in 2010 to investigate extracellular vesicles as biological drug delivery systems. After he moved to the Laboratory for Clinical Chemistry & Hematology of the University Medical Center Utrecht in 2011 he became professor of nanomedicine working on bio-inspired and synthetic drug delivery systems. He coordinates two H2020 projects on this topic, B-SMART and EXPERT, is editor for the International Journal of Pharmaceutics, Journal of Controlled Release and Journal of Extracellular Vesicles, and is founder of EXCYTEX-an extracellular vesicle-based company.
Representative publlications
1. de Jong OG, Kooijmans SAA, Murphy DE, Jiang L, Evers MJW, Sluijter JPG, Vader P, Schiffelers RM. Drug Delivery with Extracellular Vesicles: From Imagination to Innovation. Acc Chem Res. 2019 52(7):1761-1770.
2. Deshantri AK, Fens MH, Ruiter RWJ, Metselaar JM, Storm G, van Bloois L, Varela-Moreira A, Mandhane SN, Mutis T, Martens ACM, Groen RWJ, Schiffelers RM. Liposomal dexamethasone inhibits tumor growth in an advanced human-mouse hybrid model of multiple myeloma. J Control Release. 2019 296:232-240.
3. Van der Jeught K, De Koker S, Bialkowski L, Heirman C, Tjok Joe P, Perche F, Maenhout S, Bevers S, Broos K, Deswarte K, Malard V, Hammad H, Baril P, Benvegnu T, Jaffrès PA, Kooijmans SAA, Schiffelers R, Lienenklaus S, Midoux P, Pichon C, Breckpot K, Thielemans K. Dendritic Cell Targeting mRNA Lipopolyplexes Combine Strong Antitumor T-Cell Immunity with Improved Inflammatory Safety. ACS Nano. 2018 12(10):9815-9829.
4. Kooijmans SAA, Vader P, Schiffelers RM. Tumour-bound RNA-laden exosomes. Nat Biomed Eng. 2017 1(8):634-636.
5. Deshantri AK, Metselaar JM, Zagkou S, Storm G, Mandhane SN, Fens MHAM, Schiffelers RM. Development and characterization of liposomal formulation of bortezomib. Int J Pharm X. 2019 1:100011.